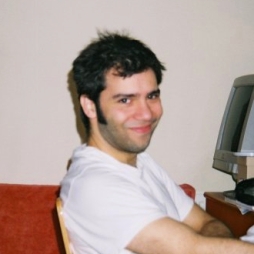 Dr Yiannis Tsapras
Data analysis and event modelling

Post-doctoral Research Astronomer
Las Cumbres Observatory Global Telescope Network
1 Morpeh Wharf, Birkenhead, Merseyside, CH41 1NQ, United Kingdom
Phone: +44-151-650 3100, Fax: +44-151-650 3113, E-mail: ytsapras

lcogt.net

Yiannis was born in Athens (Greece) in 1975. He received an MSc in Radioastronomy from The University of Manchester (England) in 1999 for his work in characterizing weather effects on various instruments used for studies of the Cosmic Microwave Background. With moving to the University of St Andrews (Scotland), his research interests shifted to extra-solar planets and to the optical part of the electromagnetic spectrum. In 2002, he received a PhD in Astronomy for his research work on modelling and analyzing microlensing events. Since then, Yiannis has worked at Queen Mary, University of London (England) as a member of the POINT-AGAPE team and as a term-time lecturer, and more recently, he has held a data-analysis position at the Astrophysics Research Institute (ARI) of Liverpool John Moores University (England), substantially contributing to the success of the PLANET/RoboNet microlensing campaign. Currently, Yiannis holds a research contract with Las Cumbres Observatory, and continues his work on extra-solar planets and public science outreach. When not looking for new planets, he can be most commonly found gaming on-line, or with a book in his hands, or listening to chilled-out music while drinking freshly brewed coffee.